About
In the information age, it has never been easier to gather, analyze, and disseminate data, which has resulted in exciting opportunities for research and commerce. However, unethical data treatment can lead to individual and societal harm, including loss of privacy, data misrepresentation and misinformation, bias, and other disparate impacts. The 2022 Women in Data Science—Greater Lafayette Conference will highlight the role data ethics plays in good data stewardship and avoiding harm.
Registration
Registration for the Greater Lafayette @ Purdue event is free and open to the public.
After registering, you will receive a confirmation email containing information about joining the meeting.
Workshop Details
Data ethics encompasses the ethical topics that surround the use of data. Machine learning in AI applications has improved our lives. However, problems of bias, fairness, and privacy unknowingly creep in after deployment. The presentation discusses data ethics considerations in the real world, tools available to mitigate the risk from data bias, and a demonstration of bias in a dataset. Join us to learn data ethics best practices in your AI-supported applications.
Workshop Presenter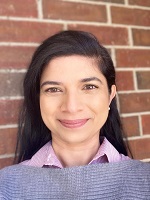 Karen DSouza is a Ph.D. Student in Computer Science at Purdue University, Indianapolis. As a computer engineer, she aims to advance AI in education using novel machine learning techniques that combine data science, computer visualization and signal processing. Her research interests are in artificial intelligence, adversarial robustness related to human behavior and data ethics.
Questions?
Contact Zoeanna Mayhook at zmayhook@purdue.edu or 765-494-6243
Get in touch
Follow WiDS on social media